Appetizers
GRILLED CHICKEN SKEWERS
Korean Grilled Chicken * Roasted Corn Relish * Lime Chipotle Yogurt
THAI STEAK SKEWERS
Thai Marinated Hanger Steak * Shishito Peppers
Edamame Salad * Coconut Peanut Sauce
MAHI MAHI SPRING ROLLS
Mahi Mahi * Mango Avocado Salsa * Huli Huli Sauce
CRISPY CALAMARI
Fried Calamari * Filo Straws * Basil * Arugula * Garlic Aioli * Arrabiata Sauce
TINY AHI TACOS
An Original Beachcomber Favorite * Ahi Tuna * Asian Slaw * Sriracha Aioli
CRAB STACK
Blue Crab * Ahi * Mango & Papaya Salsa * Avocado * Cucumber
Pickled Ginger Vinaigrette * Macadamia Nuts * Taro Chips
Try It in Vegetarian Style
FIRE GRILLED ARTICHOKES
Steamed & Grilled Artichokes * Lemon Aioli
THE REAL DEAL CLAM CHOWDER
Creamy Chowder * Clams * Potatoes * Bacon * Cup * 9.95 Bowl
BAKED BLEU TOMATO SOUP
Puréed Roasted Organic Tomatoes * Bleu Cheese * Puff Pastry Crown
Signature Cocktails
TONGA LEI
It Takes Two To Tonga with this cocktail for two!
Hibiscus & Elderflower * Pyrat Rum * Mango Citrónge * Malibu Rum * Mango Purée * Agave * Pineapple & Lime Juices * Smoke
We provide the Tonga; the rest is up to you!
APPLE IN THE RYE
Bulleit Rye * St. Germain
Apple Shrub * Lemon Juice * Soda Water
MAD MEN MANHATTAN
Maker's 46 * Classic Pomegranate Grenadine
Giuseppe B. Carpano Antica Formula Vermouth
Finished with a Crystal Clear Ice Sphere
The Jars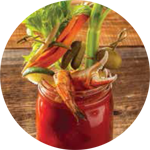 BIG BAD BLOODY MARY
~ Voted "Best in OC" by OC Register ~
Housemade Bloody Mary Mix
Tito's Vodka * Crab Claw
Jumbo Shrimp
Fresh Vegetable Garden
PIMM'S CUP
Pimm's No. 1 Cup * Nolet's Gin
Lemonade * Sparkling Soda * Lemon
Strawberries * Cucumber * Orange
FRONT PORCH BLACKBERRY TEA
A Secret Prohibition-Style Iced Tea.
Svedka Citron
Blackberry Liqueur * Lemonade
Iced Tea
MICHELADA
House Spicy Mix * Mexican Beer
Chili Spiced Rim
WHISKEY'S MY JAM
Bulleit Bourbon
Knott's Boysenberry Jam
Honey * Lemon Juice * Soda
TWISTED MR.
George Dickel Tabasco Whiskey
Muddled Fresh Strawberries
Lemonade * Soda
The Mules
MOSCOW MULE
Stoli Vodka * Ginger Beer
Freshly Squeezed Limes
THE SKINNY MULE
Stoli Vodka * Diet Ginger Beer
Freshly Squeezed Limes
THE KENTUCKY MULE
Bulleit Rye * Ginger Beer * Freshly
Squeezed Limes
GARDEN MULE
Stoli Vodka * Basil
Gosling's Ginger Beer
Freshly Squeezed Limes * Cucumber
Strawberry
The Margaritas
PATRÓN MARGARITA
Patrón Silver * Grand Marnier
Fresh Citrus Juices * Rocks
THE REAL DEAL MARGARITA
Casamigos * Fresh Lime Juice
Real Agave Nectar * Rocks
Or Make it Spicy by Adding
Our Jalapeño Purée
EL MORRO MARGARITA
Sauza Blue Tequila * Cointreau
Fresh Citrus Juices * Rocks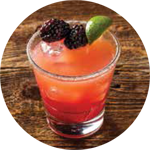 BLACKBERRY MARGARITA
Cazadores Reposado
Briottet Crème de Mure Blackberry Liqueur
Real Agave Nectar * Lime * Rocks
CUCUMBER MARGARITA
Sauza Blue * Organic Agave Lime Juice
Fresh Cucumber Purée * Midori * Tajin
Spice
The Cocktails
LUSCIOUS LEMONADE
Svedka Citron
Briottet Crème de Mure Blackberry Liqueur
Lemonade
THE BEACHCOMBER
Our Signature Tall & Cool Cocktail
Cherry Cruzan Rum
Svedka Colada * Lemonade
Cranberry Juice
POMEGRANATE LEMON G & T
Nolet's Gin
Fresh Squeezed Lemon Juice
Housemade Pomegranate Grenadine
THE ENDLESS SUMMER
Vodka * Basil * Muddled Strawberries &
Cucumbers * Lemonade
The Martinis
LEMON GINGER
Belvedere Vodka * Tuaca * Lemon Juice
Gosling's Ginger Beer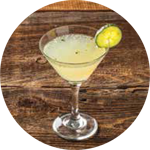 CUCUMBER MIST
Svedka Citron
Freshly Muddled Cucumber Mint
CATALINA SUNSET
Citron * Lemonade
Briottet Blackberry Liqueur * Pineapple Juice
Champagnes & Sparkling Wines
CRISTALINO, BRUT, CAVA
Spain
MUMM NAPA
Napa Valley
DOMAINE CARNEROS BRUT
Napa Valley
VEUVE CLIQUOT "YELLOW LABEL"
Reims, France, NV

Local Craft Beers
BOOTLEGGER'S "EL CHANGO"
MEXICAN LAGER
MICHELOB ULTRA
LIGHT LAGER
4 SON'S "SURF CITY"
PALE LAGER
MODERN TIMES "FORTUNATE ISLANDS"
PALE ALE
BARLEY FORGE "EL TECNICO"
AMBER ALE
EEL RIVER
"ORGANIC CALIFORNIA BLONDE"
BOOTLEGGER'S
"OLD WORLD HEFEWEIZEN"
LEFT COAST "TRESTLES"
IPA
STONE
IPA
White Wines
ROSE CAPE MENTELLE
Australia
CHARDONNAY, THE BEACHCOMBER
California
CHARDONNAY, BUTTER CHARDONNAY
California
CHARDONNAY, LA CREMA
Sonoma Coast
CHARDONNAY, ZD
Napa Valley
CHARDONNAY, STAGS' LEAP
"Karia" Napa Valley
PINOT GRIGIO, RUFINO
Italy
SAUVIGNON BLANC, KIM CRAWFORD
Marlborough, NZ
SAUVIGNON BLANC, CAKEBREAD CELLARS
Napa Valley
Red Wines
PINOT NOIR, MURPHEY GOODE
California
PINOT NOIR, MACMURRAY RANCH
Sonoma Coast
ZINFANDEL, ANCIENT PEAKS
Paso Robles
MERLOT, ANCIENT PEAKS
Paso Robles
MERITAGE, HILL FAMILY – "BARREL BLEND"
Napa Valley
SHIRAZ, COPPOLA – "ROSSO & BIANCO"
California
CABERNET SAUVIGNON, "DIAMOND" COPPOLA
California
CABERNET SAUVIGNON, THE BEACHCOMBER
California
CABERNET SAUVIGNON, JUSTIN VINEYARDS
Paso Robles