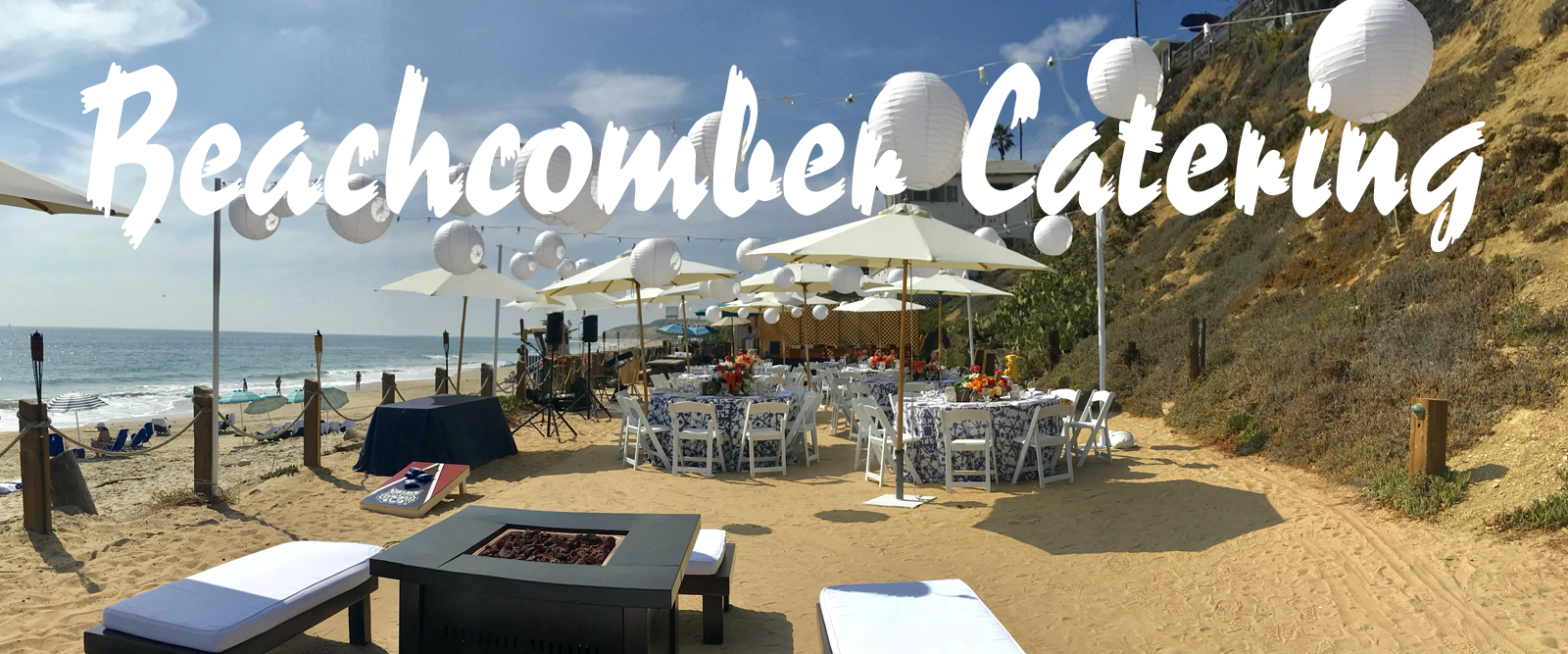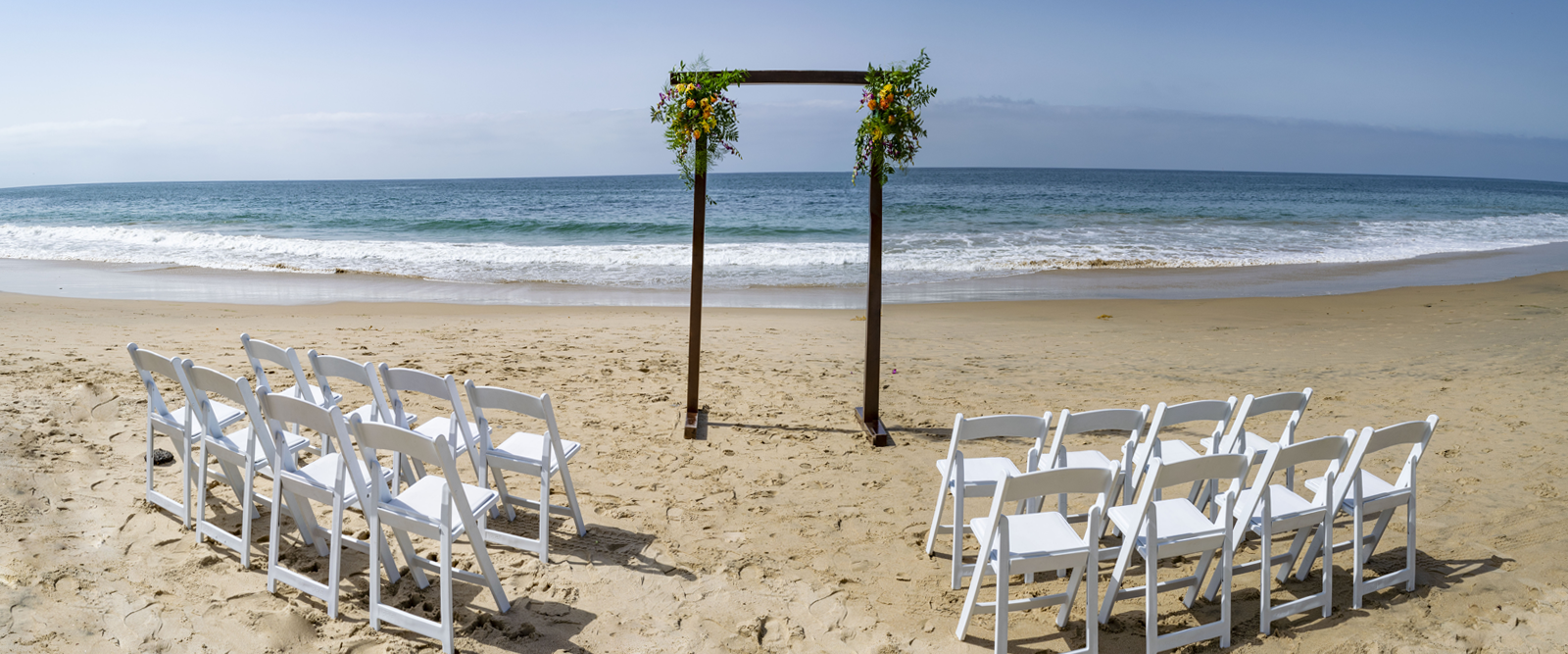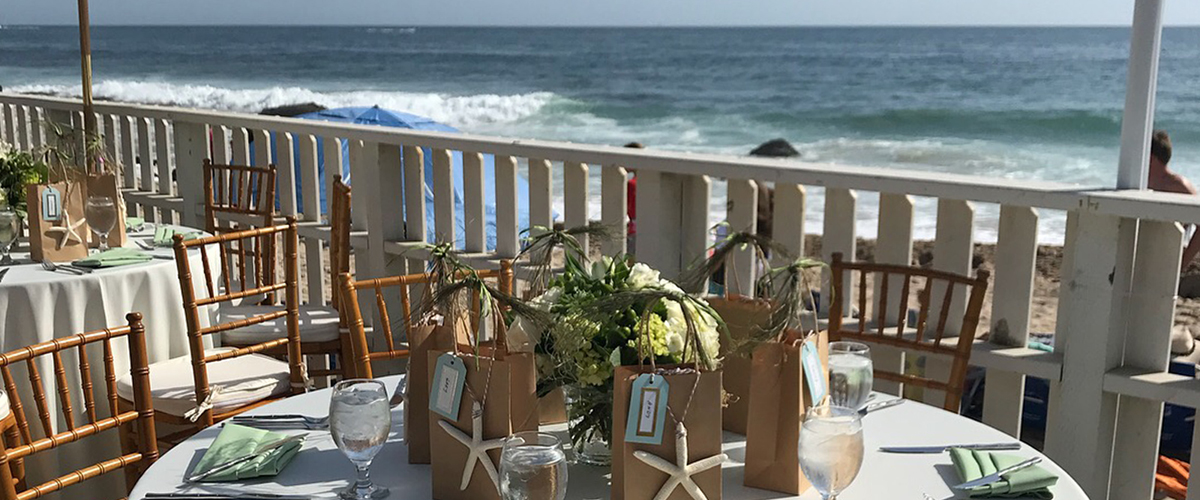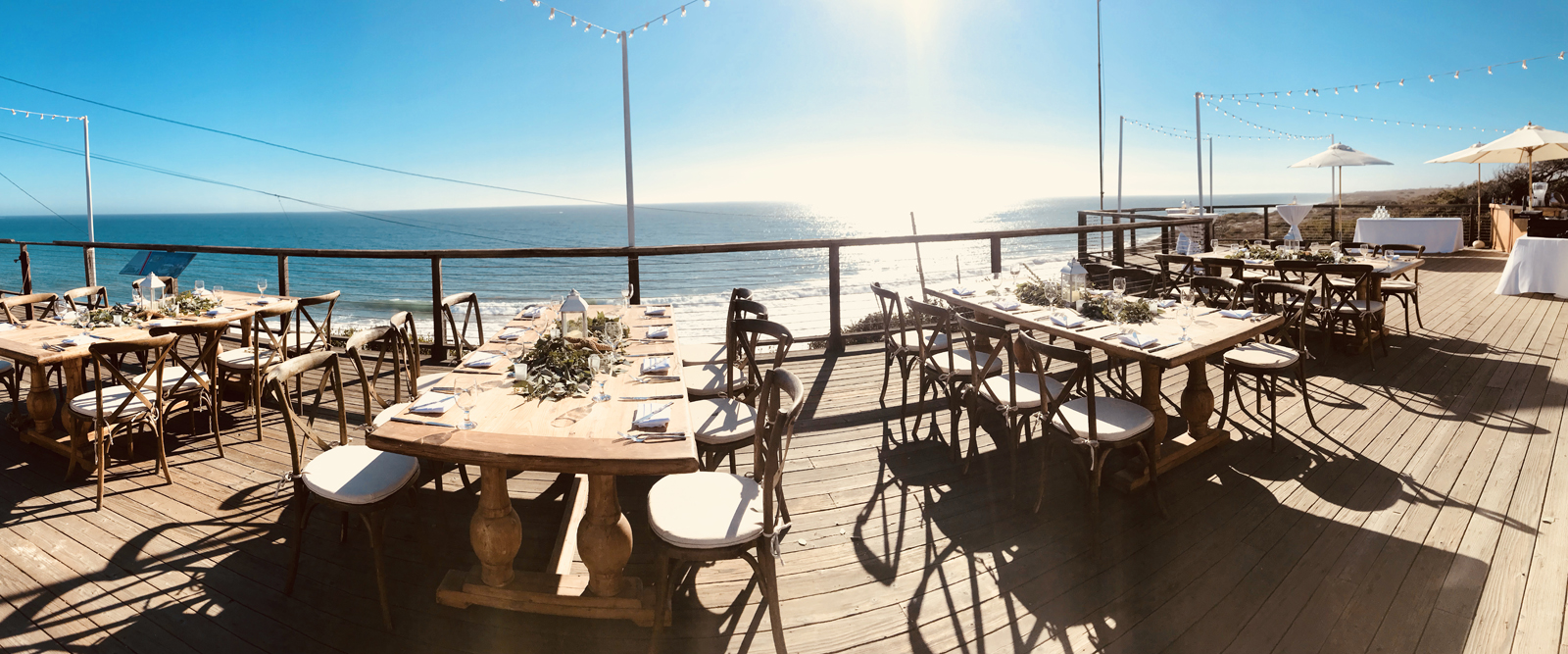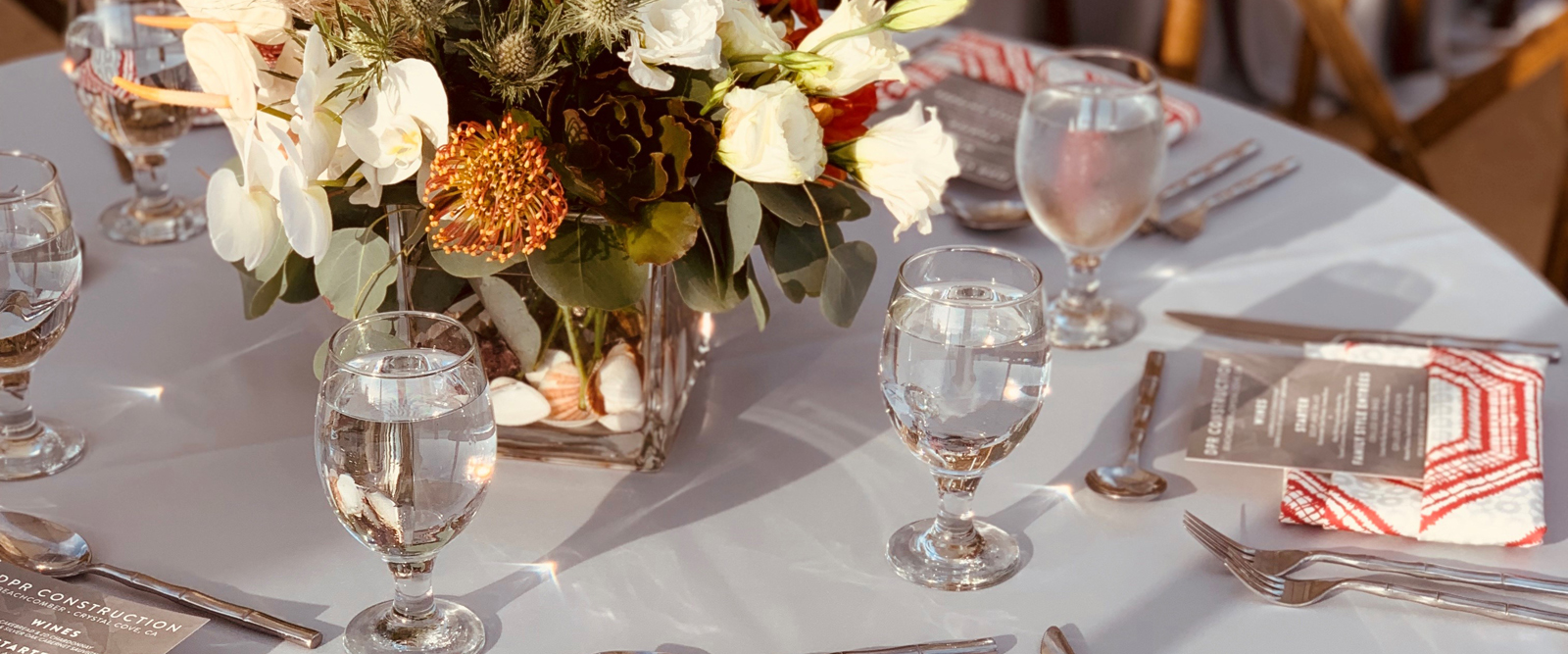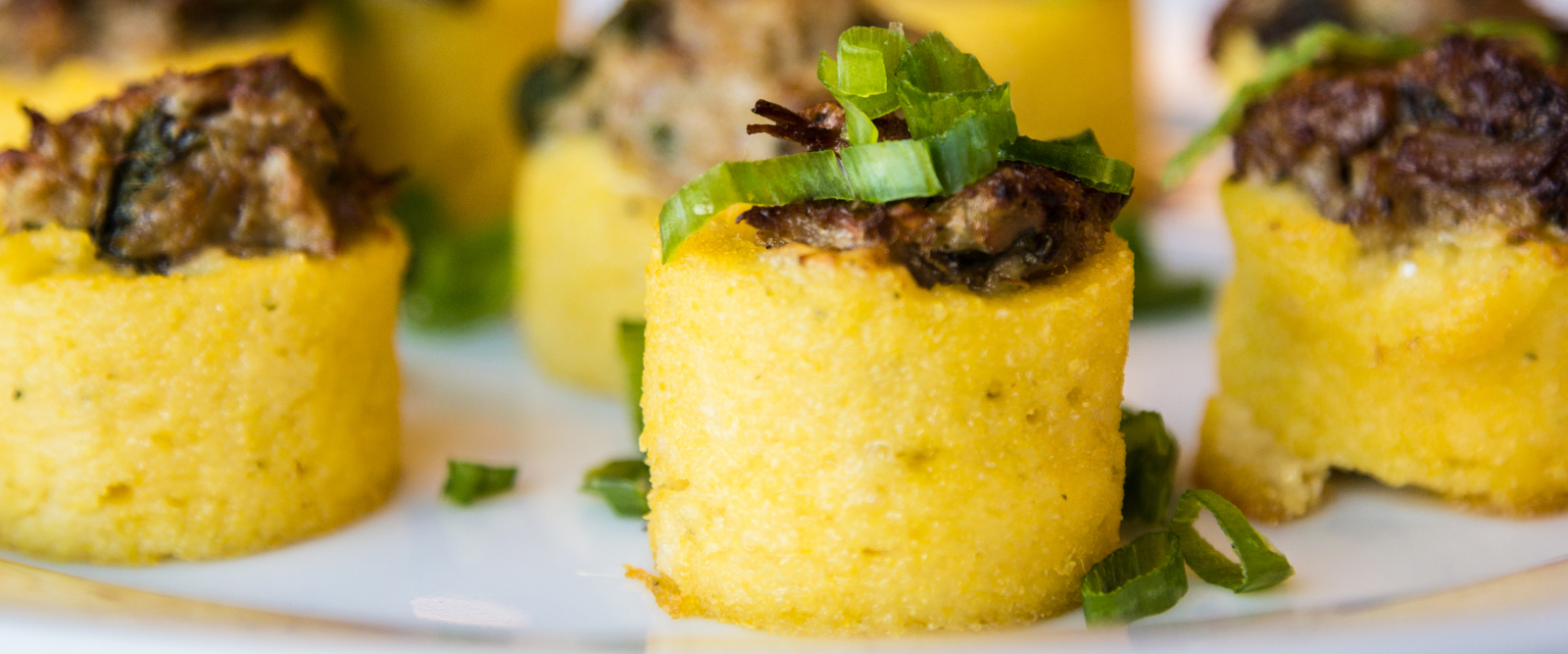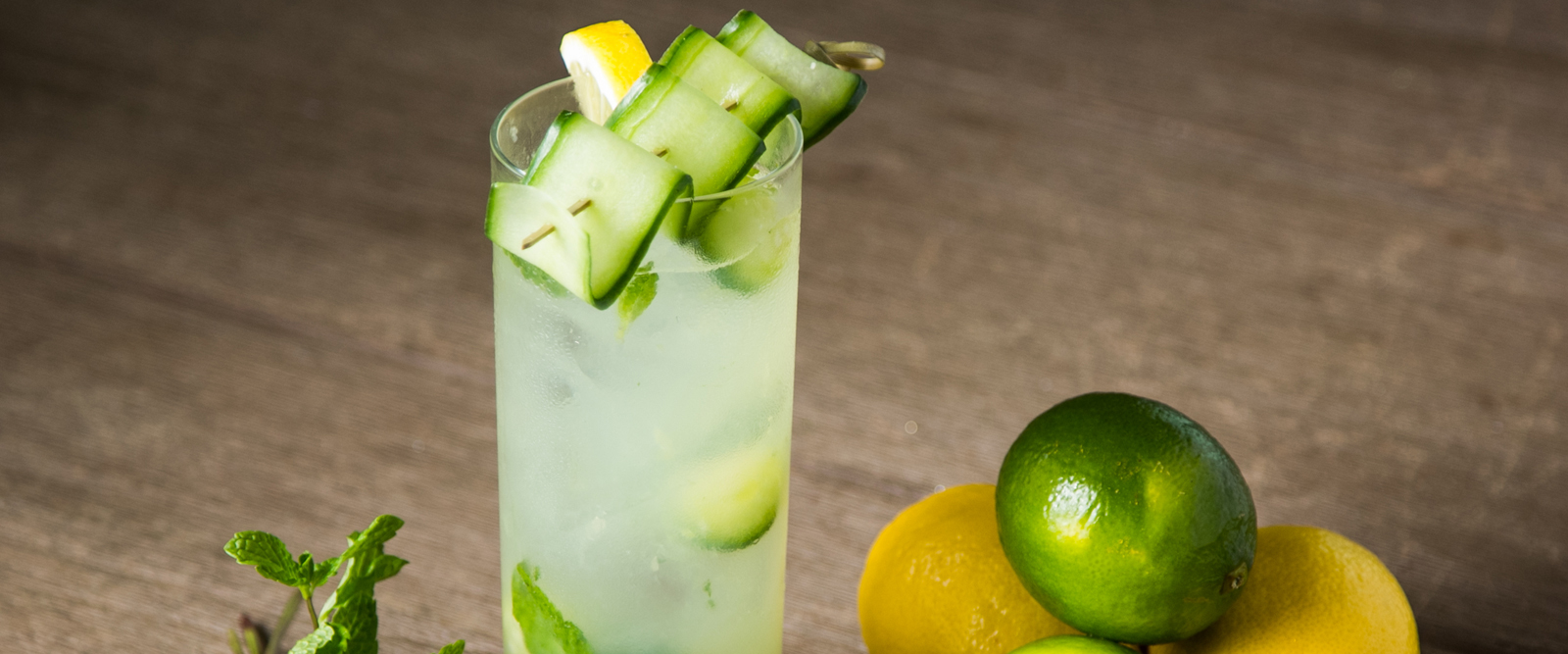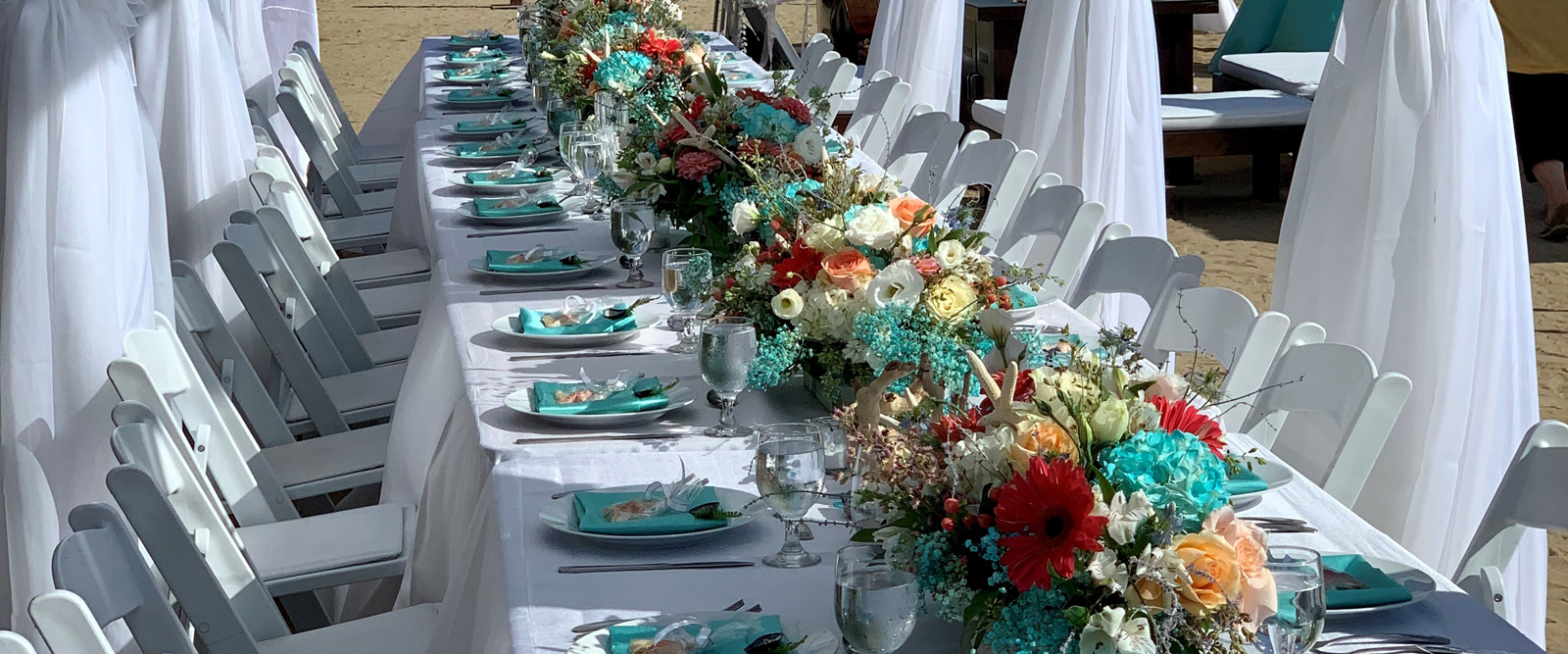 ---
THE BEACHCOMBER CAFE AT CRYSTAL COVE CATERS!
---
ABOUT | WEDDINGS & SOCIAL EVENTS | EVENT SITES AT CRYSTAL COVE | MENUS | PLANNING YOUR EVENT | CONTACT CATERING
---
ABOUT THE BEACHCOMBER CATERING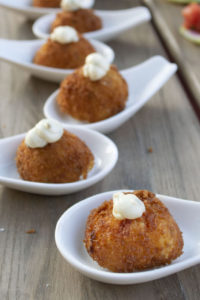 The Beachcomber takes pride in delivering the best culinary experience and service for each event. More specifically, our catering department works directly with the chef to tailor each menu specifically to the clients taste and needs.
Would you like to cater a Vegetarian only menu that will pleasantly surprise your guests? Do you need Vegan options that aren't bland and boring? Would you like to roast marshmallows over a fire pit as the sun sets? Are you hoping to sip on a classic Margarita, sitting beachside while taking in the ocean breeze?
Look no further! The Beachcomber has all these options and many more and we look forward to partnering with to make your foodie dreams a reality!
---
WEDDINGS & SOCIAL EVENTS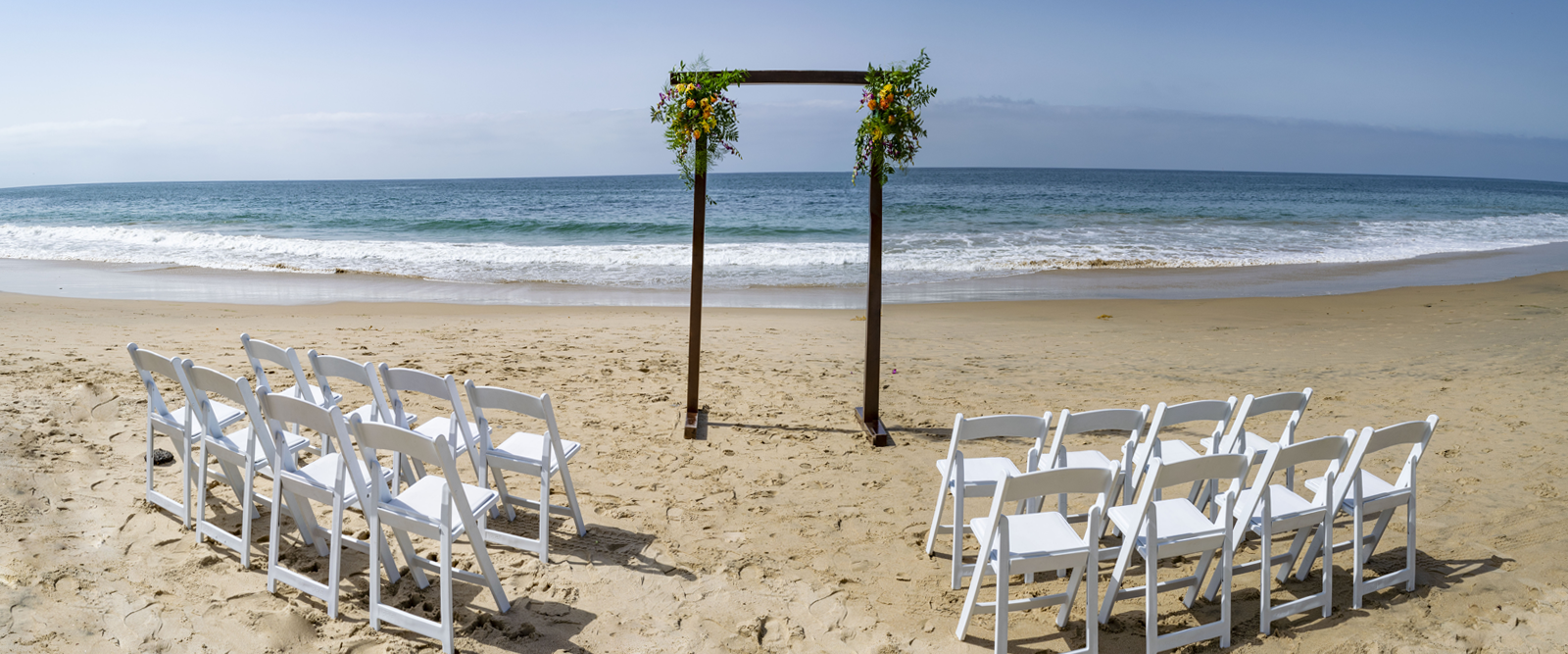 PLANNING YOUR EVENT
With our unique setting and fantastic menus, your next event will be unforgettable! The Beachcomber Café is the designated food and beverage concessionaire for the Crystal Cove Historic District.
You will find six event sites located here in the Cove, each one hosting events like weddings, rehearsal dinners, family celebrations, birthdays, galas, corporate events with that sunny California beach vibe and a beautiful ocean view as its backdrop.
Additionally, The Beachcomber's Catering team is dedicated to making your event a remarkable success by offering excellent service, fresh local products and customizing your event to make it the special one of a kind day you always envisioned.
» CLICK HERE FOR A SAMPLE OF OUR MOST POPULAR CATERING PACKAGES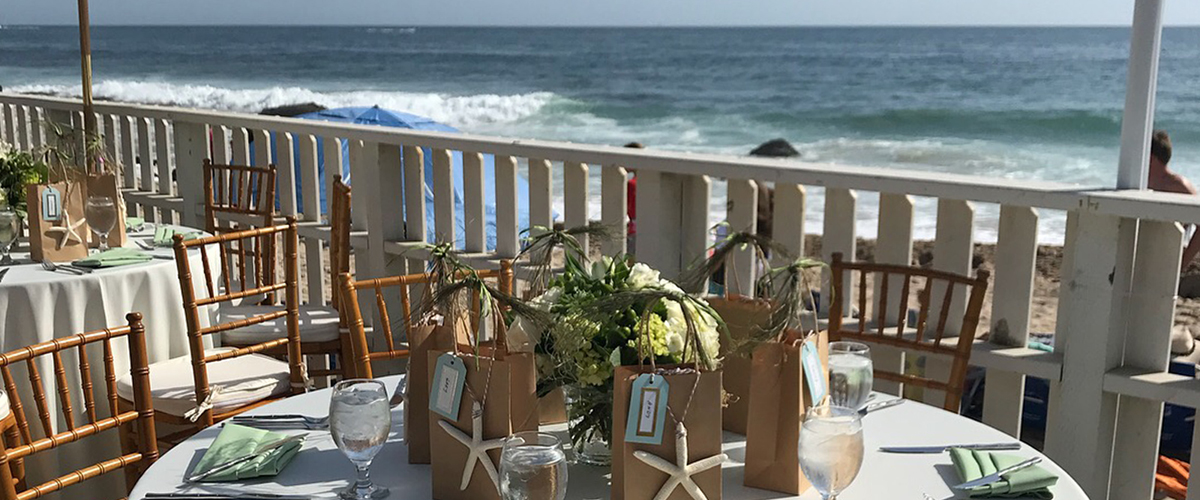 ---
EVENT SITES AT CRYSTAL COVE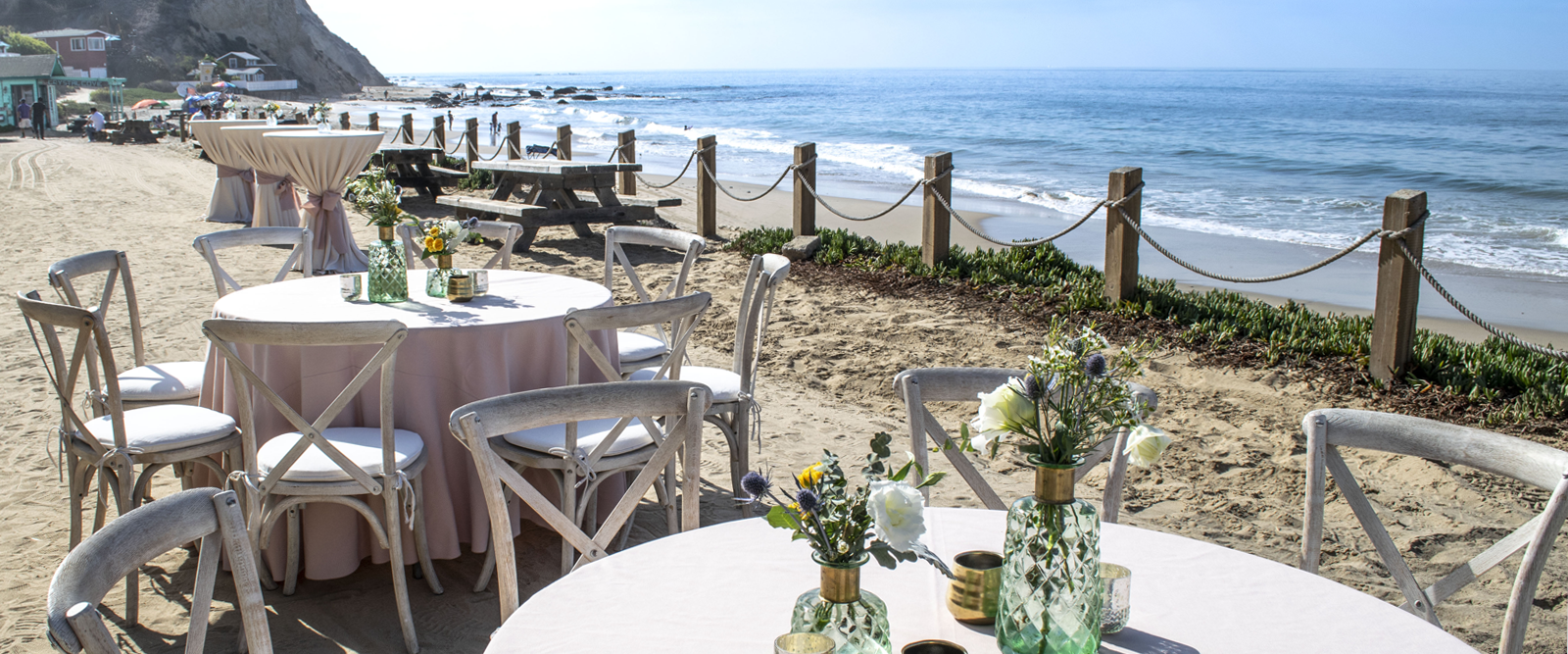 BEACH PROMENADE (Pictured Above)
Accessible beach front promenade situated a stone's throw from the crashing surf and warm sand. An outdoor space that can seat up to 150 guests, or host 150 reception-style. If sunsets and salt air fill your sails, this is the place for you!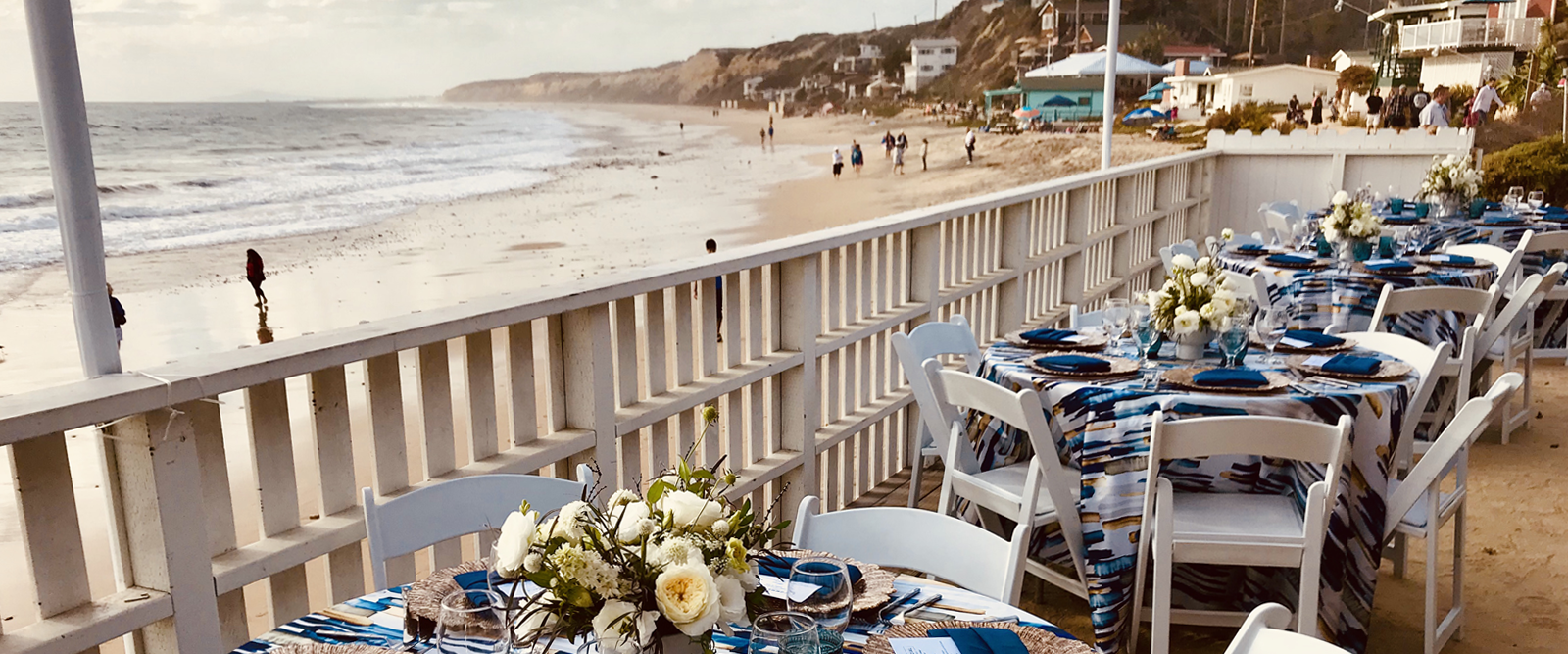 THE BEACHES COTTAGE, #13 (Pictured Above)
Gorgeous ocean panoramas and unparallel views of Catalina Island make this charming location an ideal spot for intimate gatherings of up to 50 guests seated, or 80 reception-style. This venue features outdoor beachfront space, a small indoor cottage room, private restroom, and relative privacy. There have been over 30 movies filmed at Crystal Cove State Park, including the 1980's movie, "Beaches" filmed at this location.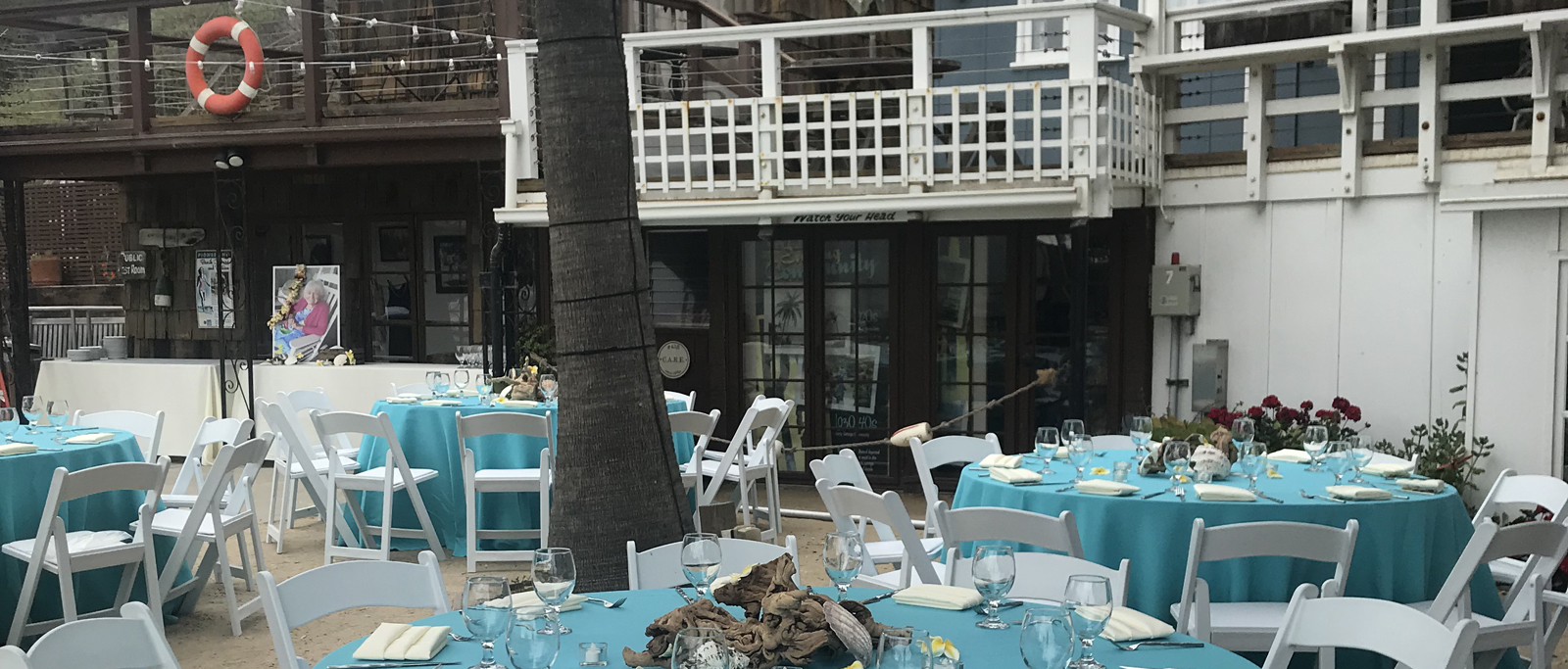 EDUCATION COMMONS (Pictured Above)
An outdoor park like setting located adjacent to the Creek and in the heart of the Historic District complete with ocean views, shade, and a private restroom. The area can accommodate up to 80 guests seated and 100 reception-style.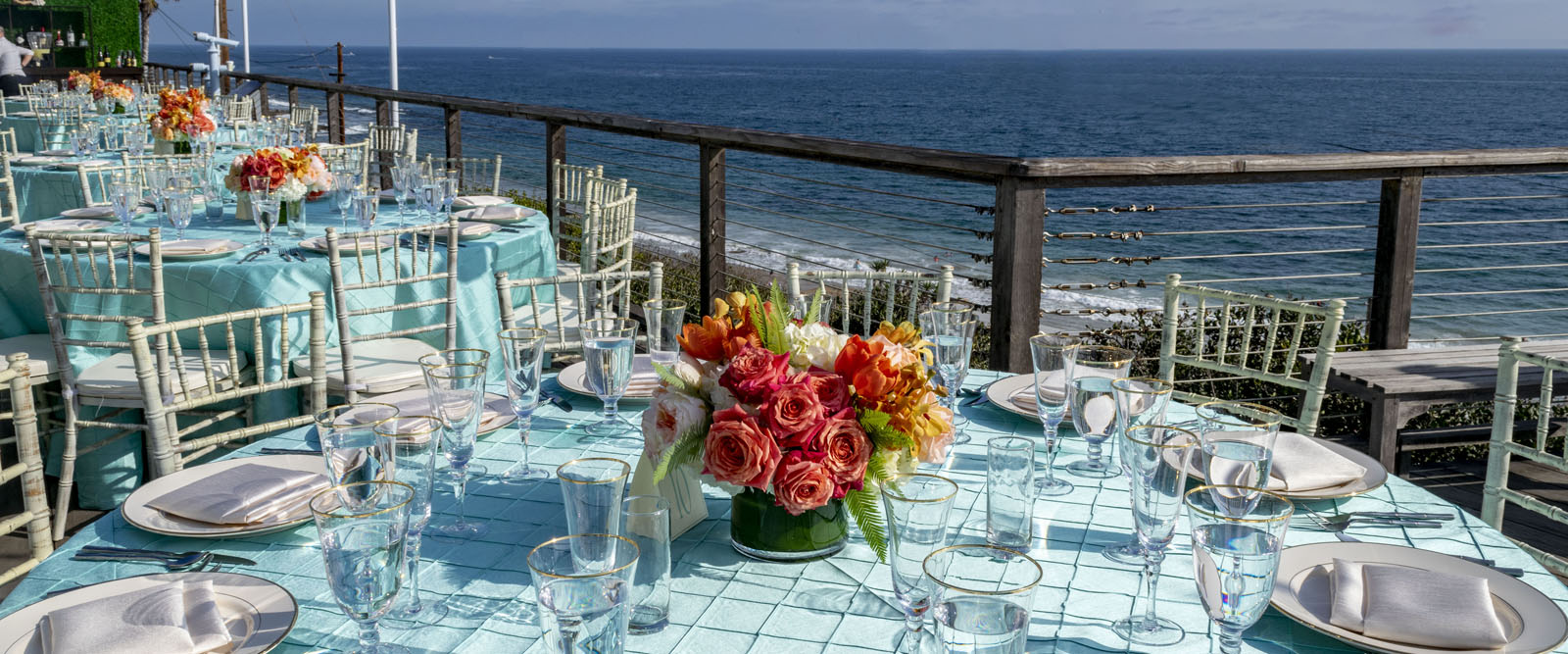 CULTURAL CENTER DECK AND COTTAGE #34 (Pictured Above)
Stunning bluff top wooden deck with brilliant ocean views and a small attached cottage. Enjoy the sunset with the crashing waves set below, while accommodating 130 seated, or 140 reception-style with two restrooms. Special note: This is the only location that allows a DJ and can go until 10:00pm. (Live bands are prohibited.)
THE HISTORIC DISTRICT: SANDY AND NORTH BEACH (Pictured Above)
A spectacular beach complete with sand, tide pools and amazing sunsets. This site provides the perfect venue for "toes in the sand" wedding ceremony or California beach party. Depending on tides, the beach can accommodate up to 100 guests, and is available only after Labor Day until the start of Memorial Day weekend.
---
CATERING MENUS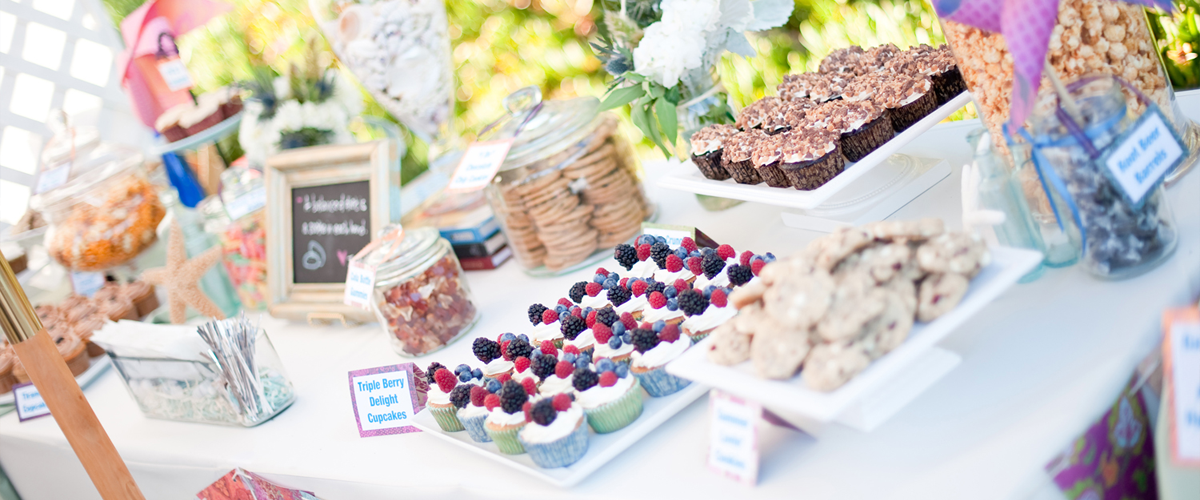 We offer a wide variety of plated and buffet menus. We will also be happy to customize your event!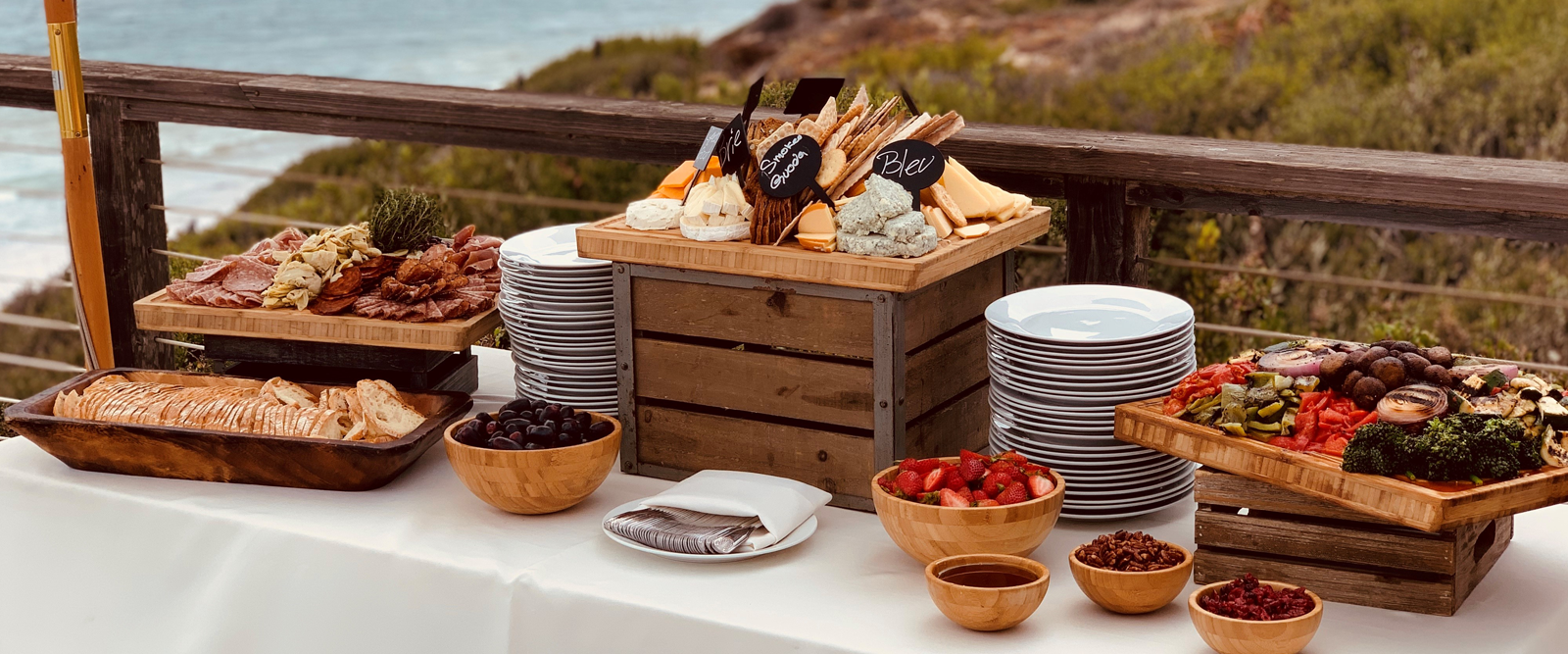 » CLICK HERE FOR A SAMPLE OF OUR CATERING MENUS
---
PLANNING YOUR EVENT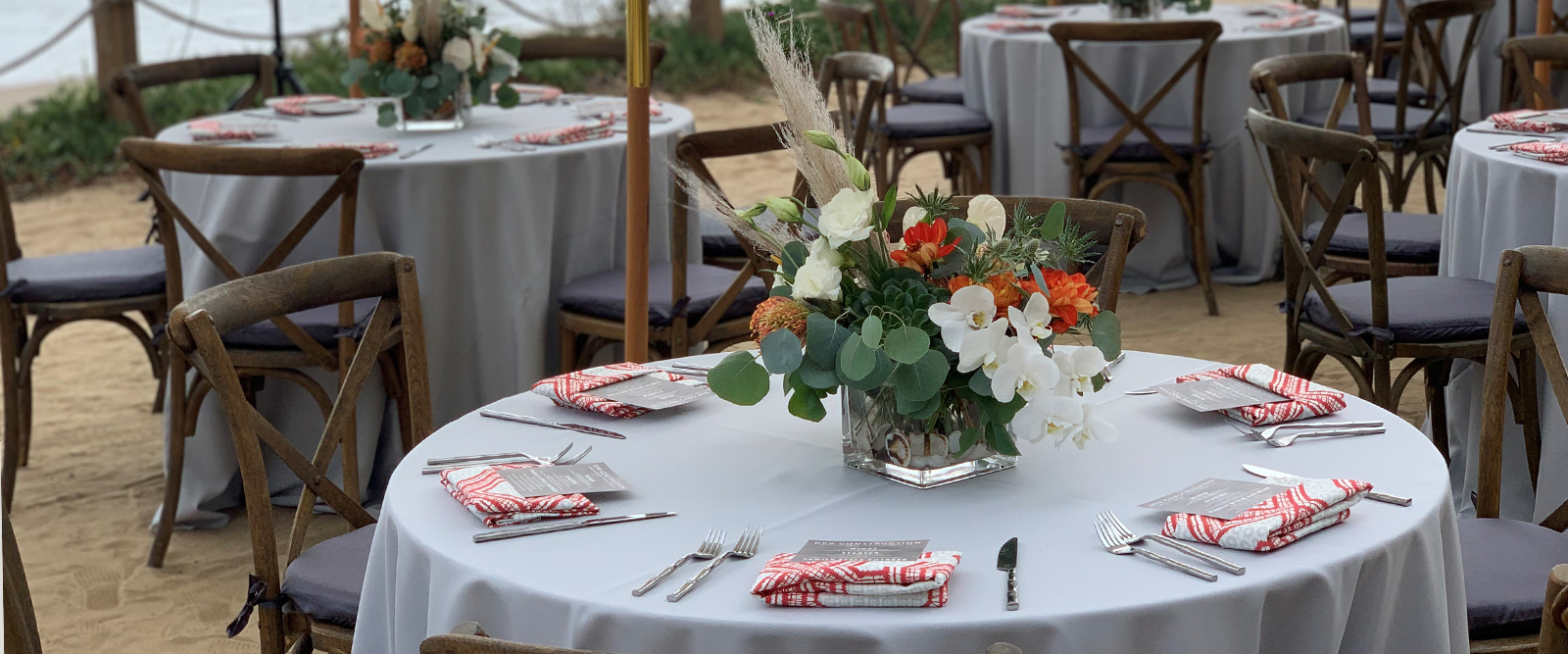 SITE LOCATION FEES
Each site has a rental fee that is determined by the State Parks. All site fees are paid to the State Park as your permit fee to use the space for a private event. The site fees are 50% off November through March.
In addition to your site fees, the State will require the following: $50 application fee; $105 an hour State Monitor fee with a 4 hour minimum; and the 18% service charge on any outside vendor contracts not including The Beachcomber.
MUSIC
Each site has certain rules such as acoustical only at the Beach Promenade, The Beach Cottage #13 and Commons. The Cultural Center deck is the only location which allows a DJ. Bands are unfortunately not authorized. Live Music is approved on a case by case basis. Other light amplification may be approved at The Commons or Beaches Cottage #13 locations on a case by case basis as well.
VENDORS
THE BEACHCOMBER CAFÉ IS THE PREFERRED CATERER FOR CRYSTAL COVE and has the first right of refusal to cater all events in Crystal Cove Historic District. The Beachcomber Café provides all ALCOHOL in the Crystal Cove Historic District. The only exception may be for a few bottles of champagne or wine along with the required corkage fee of $30 per bottle.
PHOTOGRAPHERS, MUSIC, FLORIST AND ALL VENDORS can be selected at your discretion. All outside vendor contracts must be presented to the State Parks Event Coordinator's office and require an 18% fee of the total value on all contracts. This does not include any vendors contracted on your behalf with The Beachcomber Café Catering.
A WEDDING PLANNER/DAY OF COORDINATOR is strongly recommended but not required. The Beachcomber does not provide a "day of coordinator" for your event and is not available for setup of any items not previously agreed upon in our contract.
CEREMONY
The beach makes for a perfect setting for any wedding, and The Beachcomber is able to set-up a ceremony in any of the event sites located within the Historic District. The beach itself (on the sand) is only available after Labor Day through the start of Memorial Day weekend.
EVENT HOURS
Events can start setting up as early as 8am. All events must conclude by 9pm, except for the Cultural Center Deck location which may conclude at 10pm.
GUEST PARKING
Guests must park in the Los Trancos Parking lot off of Pacific Coast Highway and either take the Beachcomber Shuttle or walk through the tunnel. For an event at the Cultural Center Deck location, guests may cross at the Los Trancos street light and take the trail directly there. There is limited handicap parking closer to the venue sites but are on a first come, first serve basis and parking fee is still required.
COTTAGES
The cottages are rented on a first come first serve basis, six months in advance and can be booked through reservecalifornia.com
---
CONTACT BEACHCOMBER CATERING
We look forward to creating an unforgettable event for you!
CALL US AT 949-644-8759
EMAIL US AT » CATERING@THEBEACHCOMBERCAFE.COM
For State Parks application, » CLICK HERE
For more information on Crystal Cove, CLICK HERE
FOLLOW BEACHCOMBER CATERING!
OR SEND THIS FORM:

---